Regular price
€105,90 EUR
Regular price
Sale price
€105,90 EUR
Unit price
per
Sale
Sold out
PRODUCT DESCRIPTION
For everyone who lives in the moment: Unicity Matcha Energy with our exclusive Chi-Oka Matcha green tea, guarana, yerba mate and other ingredients gives you a natural, sustainable energy boost and relaxed concentration.
The caffeine and theophylline contained in Matcha Energy are slowly absorbed and broken down again by the body via the intestines, so that there is no low performance.
The high content of antioxidants, vitamins and other nutrients makes you fit and helps to reduce stress.
Perfect for everyone who doesn't want to be overwhelmed by the hustle and bustle of everyday life!
RECOMMENDATION FOR USE
Mix the contents of one sachet with 250 ml of water and drink once a day.
IDEAL FOR EVERYONE WHO…
want to be in top form and do their best
need a healthy energy drink for optimal training results during sports
CONTENTS
258g
Serving Size: 8.6g
Servings per pack: 30
INGREDIENTS & EFFECT
caffeine and theophylline
reduce fatigue and have a stimulating effect
are slowly absorbed and broken down by the body via the intestines
B group vitamins
Thiamine (B1) contributes to normal mental function
Niacin (B3) helps reduce tiredness and fatigue
Pantothenic acid (B5) contributes to normal mental performance
vitamin C
Helps protect cells from oxidative stress
supports the normal function of the immune system
UNICITY SCIENCE
To learn more about our science for Unicity products, visit unicityscience.org.
INGREDIENTS
maltodextrin; matcha green tea powder (Camellia sinensis); inulin; Sugar; fructose; Flavors; acidifier: citric acid; L-carnitine; potassium chloride; sodium chloride (salt); green coffee bean extract (Coffea arabica); roseroot extract (Rhodiola rosea); emulsifier: soy lecithin; pomegranate extract (Punica granatum); grape seed extract (Vitis vinifera); ascorbic acid; sweetener: sucralose; nicotinamide; D-calcium pantothenate; pyridoxine hydrochloride; riboflavin; thiamine hydrochloride; yerba mate (Ilex paraguariensis); guarana powder (Paullinia cupana); cyanocobalamin.

Contains: Soy
May contain naturally occurring vitamin K
FREQUENTLY ASKED QUESTIONS
How much does a sachet of Matcha Energy contain?
A sachet of Matcha Energy contains 8.6 g.

What type of sugar does Matcha Energy contain?
A portion of Matcha Energy contains only 1 gram of sugar, including fructose.

Is the caffeine content in Matcha Energy healthy?
Matcha Energy contains only natural caffeine from the tea leaf and no artificially added, synthetic caffeine. It is therefore slowly absorbed and broken down by the body via the intestines - ideal for avoiding the sudden drop in performance that is typical of many energy drinks.

How does Matcha work?
Matcha consists of the whole tea leaf that is ground into a fine powder and dissolved in water. With every sip of Matcha Energy you get all the nutrients contained in the leaf - chlorophyll, proteins, antioxidants and numerous vitamins as well as caffeine and theophylline.

What makes Unicity Matcha different from other supermarket matcha products?
The Chi-Oka Matcha used for Matcha Energy is shade grown and grows much more slowly. This complex cultivation method increases the nutrient content in the tea leaf significantly. And you benefit from it with every sip!

Why does matcha taste so sweet?
Matcha Energy tastes sweet without being overloaded with sugar: In contrast to many commercially available energy drinks, one serving contains only 1 gram of sugar and thus supports healthy blood sugar and insulin levels. In addition, there is sucralose, a calorie-free sweetener that does not burden blood sugar levels.

What is the difference between Matcha Energy and Unicity Matcha Focus?
Unicity Matcha Energy boosts metabolism and provides physical energy. That's why Matcha Energy is also ideal for athletes who are looking for a natural support for their training program. Matcha Focus contains a little less caffeine and above all supports mental focus.

What other Unicity products can I take with Matcha?
Basically, you can combine the Unicity products as you wish! However, be careful not to take too many caffeinated products like Matcha and Unimate at once if you are sensitive to caffeine.

Can I combine Matcha Energy with Matcha X?
Matcha X was developed to specifically stimulate the metabolism around the clock. With Matcha Energy you get a natural, sustainable energy boost to support your active lifestyle and sports. Of course you can combine both Matcha products as you wish. But be careful not to combine too many caffeinated products daily if you are sensitive to caffeine.

NOTE: * Keep out of the reach of children in a cool, dry place. Dietary supplements are not a substitute for a varied and balanced diet and a healthy lifestyle. The recommended daily dose should not be exceeded. Not suitable for children, pregnant women, breastfeeding women or people sensitive to caffeine. Do not use if tamper evident seal is missing or broken.
NUTRITIONAL VALUES
| SERVING SIZE:1 packet (8.6g) | SERVINGS PER PACKAGE: 30 | BY SERVING | REFERENCE INTAKE % |
| --- | --- | --- |
| catechins | 150mg | -- |
| Vitamin B1 | 1.1mg | 100%* |
| Vitamin B2 | 1.37mg | 98% |
| niacin | 15mg | 94% |
| Vitamin B6 | 1.35mg | 96% |
| Pantothenic Acid | 4mg | 67% |
| vitamin C | 40mg | 50% |
| Vitamin B12 | 2mg | 80% |
| polyphenols | 200mg | -- |
| caffeine | 80mg | -- |
| L-Carnitine | 500mg | -- |
View full details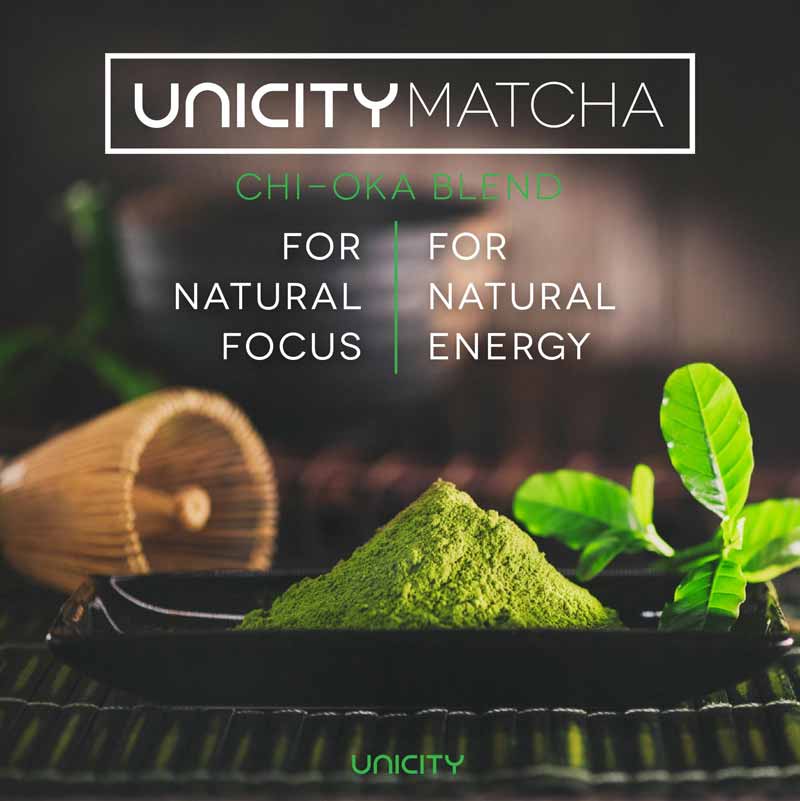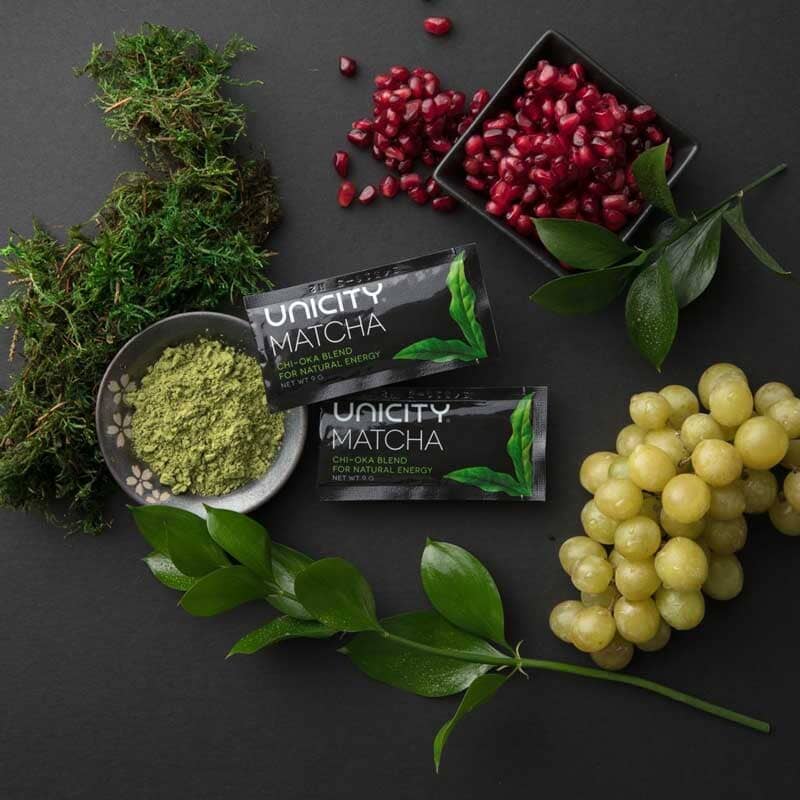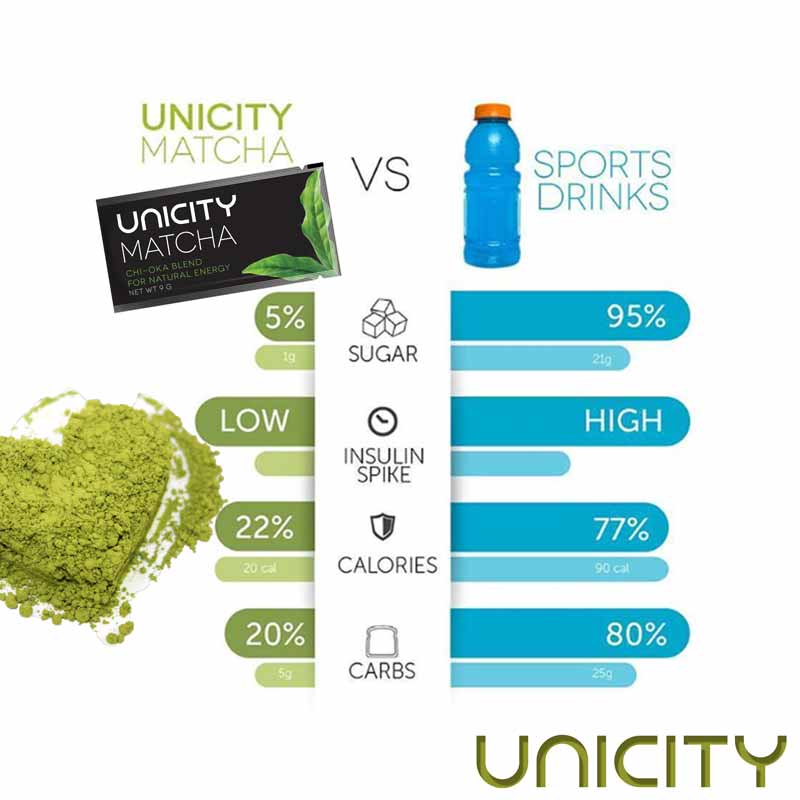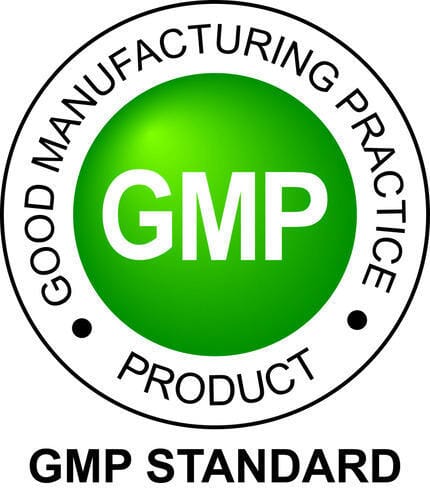 Delivery free of charge

We will deliver your order to you free of charge.

90 Day Money Back Guarantee

If for any reason you are unsatisfied with your Feel Great products within 90 days of purchase, we will provide you with a full refund of the purchase price. Guaranteed!