Regular price
Sale price
€64,90 EUR
Unit price
per
Sale
Sold out
PRODUCT DESCRIPTION
Collagen and hyaluronic acid have become indispensable in anti-aging skin care: the structural protein collagen is an essential component of the skin and provides firmness and elasticity. Hyaluronic acid stores moisture and thus supports the firm, radiant appearance of the skin. But even the best creams and serums only work superficially!

With the collagen drink Unicity Oasis your skin care gets a whole new dimension. Valuable, marine collagen peptides, hyaluronic acid and vitamin C support the radiant, youthful appearance of your skin from the inside. And it tastes incredibly delicious too!
RECOMMENDATION FOR USE*
Mix one sachet with 250ml water and enjoy.
IDEAL FOR EVERYONE WHO...
Understand nutrition as part of skin care
want to maintain the youthful appearance of their skin from within
CONTENTS
Serving Size: 1 sachet (7.2 g)
Servings per pack: 30
INGREDIENTS & EFFECT
help reduce the appearance of wrinkles
support a firm complexion
binds moisture in the skin
makes the skin appear firmer and smoother
contributes to normal collagen formation for normal skin function
helps protect cells from oxidative stress
INGREDIENTS
Resistant maltodextrin, fish collagen, sweetener (erythritol), natural strawberry flavor, acidity regulator (citric acid), sodium hyaluronate, blueberry extract (Vaccinium myrtillus L., peach flavor, acidity regulator (malic acid), L-ascorbic acid, sweetener (steviol glycosides), sweetener (sucralose)
Contains: Fish.

TIP: The full effect of the collagen in Oasis unfolds after several weeks of use.
FREQUENTLY ASKED QUESTIONS
How fast does Oasis work?
The full effect of the collagen in Oasis unfolds after several weeks of use.

Why does Oasis contain additional vitamin C?
Vitamin C is one of the most effective active ingredients in skin care and, due to its collagen-forming effect, perfectly complements the collagen in Oasis. In addition, vitamin C and hyaluronic acid form a proven combination in anti-aging skin care for a firm and radiant complexion.

Where does the collagen in Oasis come from?
The marine collagen in Oasis is derived from the skin of previously processed fish. So it comes from sustainable sources.

Does Oasis taste like fish?
No, the marine collagen in Oasis does not taste fishy! Oasis has a delicious, refreshing berry flavor.

NOTE: * Keep out of the reach of children. Dietary supplements are not a substitute for a varied and balanced diet and a healthy lifestyle. The recommended daily dose should not be exceeded. Do not use if tamper evident seal is missing or broken.
NUTRITIONAL INFORMATION / INFORMATIONS NUTRITIONNELLES / NUTRITIONAL INFORMATION
| Serving Size/ Portion journali re/ Daily portion: 1 sachet/ bag (7.2 g) | Servings per container/ Portions journalires par emballage/ Daily portions per pack: 30 | Per portion/ Par portion/ Per portion | *VNR/*NRW |
| --- | --- | --- |
| Fish Collagen/Collag ne de poisson/ Fish Collagen | 1700 mg | -- |
| Sodium Hyaluronate/Hyaluronate de sodium/ Sodium hyaluronate | 268 mg | -- |
| Bilberry Extract/Extrait de myrtille/ Bilberry extract | 100 mg | -- |
| Vitamin C/ Vitamins C/ Vitamin C | 50 mg | 63% |
View full details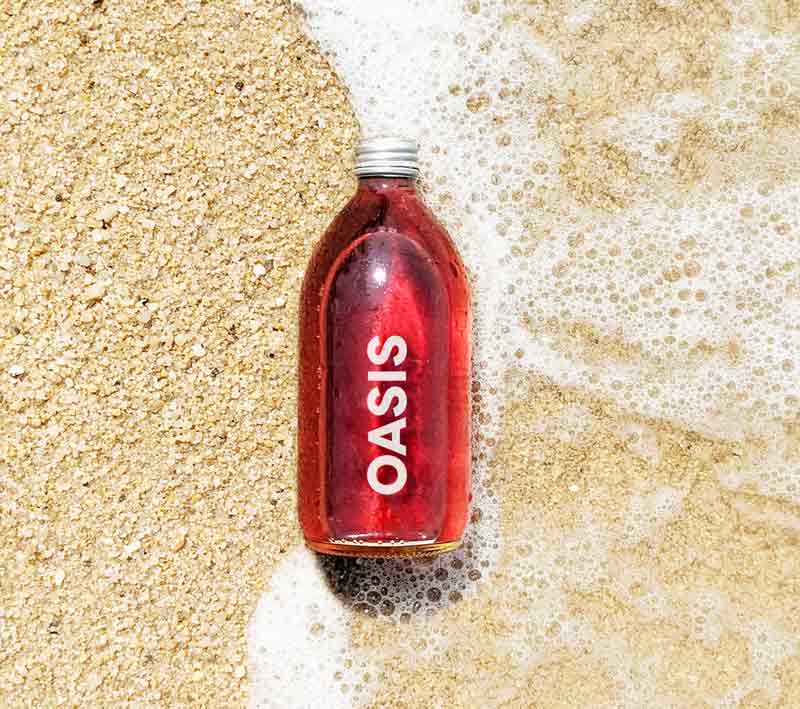 Delivery free of charge

We will deliver your order to you free of charge.

90 Day Money Back Guarantee

If for any reason you are unsatisfied with your Feel Great products within 90 days of purchase, we will provide you with a full refund of the purchase price. Guaranteed!