Regular price
€116,90 EUR
Regular price
Sale price
€116,90 EUR
Unit price
per
Sale
Sold out
Unicity Unimate Ginger, high-quality yerba mate with a refreshing citrus kick and ginger flavor.
Choose Unimate and feel great.
PRODUCT DESCRIPTION
Do you know that? On some days you could move mountains, you can do twice as much as usual and stay relaxed at the same time. And then there are days when you feel foggy and nothing is going on. But what makes the difference - and how does every day become your lucky day?

With Unimate, great days become the rule, not the exception. Yerba mate comes from a plant native to South America that has been drunk in community rituals there for centuries. Naturally rich in antioxidants and nutrients, caffeinated yerba mate is a traditional crop used to support mental clarity, stamina and mood. It is also said to curb appetite. The yerba mate leaves in Unicity Unimate are picked, roasted, extracted, concentrated and purified in a unique five-step process. The result is a proprietary extract that concentrates the benefits of yerba mate and contains up to 10 times more antioxidant chlorogenic acids than a regular cup of coffee. No matter what tasks await you every day, Unimate supports your cognitive functions, your stamina and your well-being.

Choose Unimate and feel great
RECOMMENDATION FOR USE *
Mix one packet with 500-700ml of water (or more/less to taste).
Drink once a day or more often if desired.
Enjoy hot or cold, or try our customers' favorite recipes
IDEAL FOR EVERYONE WHO…
want to maintain their concentration and good mood
need energy for their dynamic lifestyle
are active in sports
CONTENTS
183g
Daily dose : 1 sachet (6.1 g)
Daily doses per pack: 30
INGREDIENTS & EFFECT
Green Yerba Mate Leaf - Yerba Mate has been used by Native Americans for centuries. It is a natural source of caffeine and contains powerful antioxidant polyphenols.
Chlorogenic Acids - Chlorogenic acids are said to have a number of beneficial health properties. They are also powerful antioxidants.
Mate Saponins - The mate saponins are a class of molecules found only in the yerba mate plant. There are particularly valuable secondary plant substances.
Theobromine - Theobromine is a molecule that has a similar structure to caffeine. It is perhaps best known as the mood-enhancing molecule found in high-quality chocolate. Theobromine is supposed to put you in a good mood.
INGREDIENTS
Extract of green mate leaf powder (Ilex paraguariensis St.Hil.), sweetener (erythritol), acidity regulator (citric acid), complexing agent (sodium gluconate), Meyer lemon flavor, flavoring, sweetener (steviol glycosides), sweetener (sucralose).
FREQUENTLY ASKED QUESTIONS
How much caffeine does one serving of Unimate contain?
The product has been tested for a maximum amount of caffeine and contains about as much caffeine as a cup of premium coffee. However, since natural ingredients can vary to a certain extent, the amount of caffeine is not standardized.

Can I take Unimate with Unicity Matcha?
Yes, you can use both products at the same time. Both products contain caffeine, so people who are sensitive to caffeine should avoid drinking the two beverages together or before bedtime.

Is this product suitable for a ketogenic or low-carb diet?
Unimate is ideal for the keto diet or other low-carb diets because it doesn't break your fast and helps you last longer until your next meal. This allows the body to enter the fat burning zone where it will eventually start producing ketones.

How is this product different from Unicity Matcha?
Unicity Matcha primarily provides energy for the body, Unimate for the mind. Matcha promotes energy production and thus cell energy, while Unimate primarily increases mood and well-being - as if you could move mountains!

What are mate saponins?
The saponins found in Mate are valuable secondary plant substances.

Why can't pregnant or breastfeeding women take this product? Can children drink Unimate?
Unicity does not test products on children, pregnant women, or women who are breastfeeding. As such, Unicity cannot recommend its use for these populations. In addition, Unimate contains natural caffeine, and many sources indicate that caffeine may be harmful to pregnant women or young children.

What are chlorogenic acids?
Chlorogenic acids are polyphenolic compounds found in plants like yerba mate, green coffee beans, and tea. They have a strong antioxidant effect.

What is Theobromine?
Theobromine is a molecule similar to caffeine but milder and has a lasting stimulating and mood-enhancing effect. Theobromine is why chocolate makes you happy! Unimate contains three times more theobromine than premium dark chocolate.

NOTE: *Dietary supplements are not a substitute for a varied and balanced diet and a healthy lifestyle. These products are not intended to diagnose, treat, cure, or prevent any disease.
View full details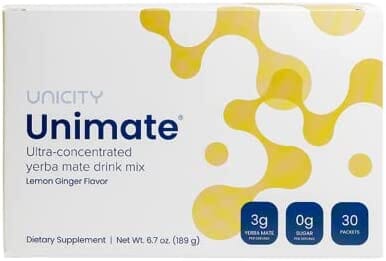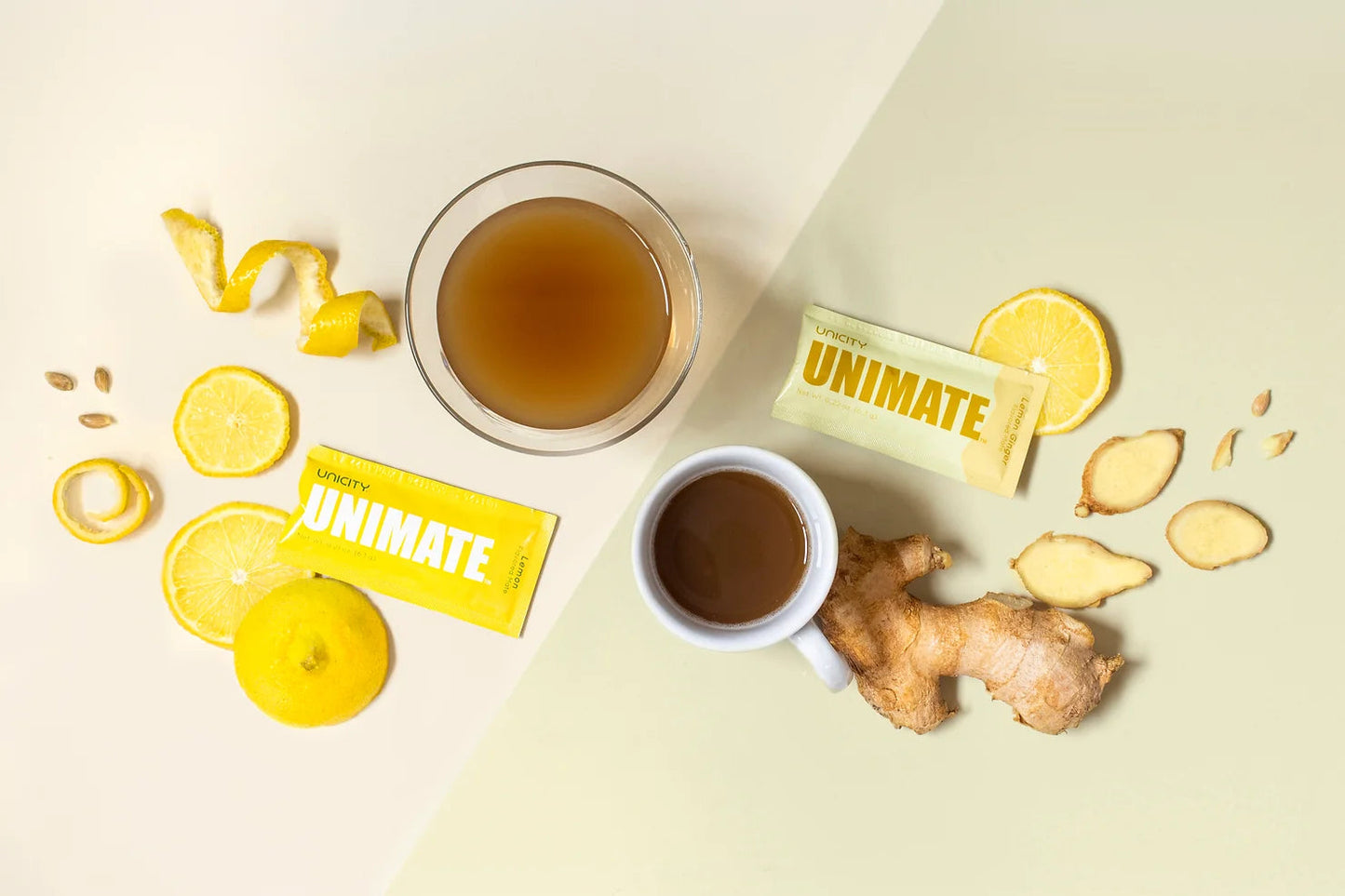 Delivery free of charge

We will deliver your order to you free of charge.

90 Day Money Back Guarantee

If for any reason you are unsatisfied with your Feel Great products within 90 days of purchase, we will provide you with a full refund of the purchase price. Guaranteed!